New "Nindies" Are Coming to the Switch
On August 28th, Nintendo streamed a live presentation via Twitch that presented 22 "nindie" titles that are in currently in the works for the Switch. These are the games that were shown and discussed and will be released through this year and into 2019.
Hyper Light Drifter: Special Edition-September 6, 2018
The critically acclaimed 2016 action/RPG is coming to the Switch with new features. In the game, you play as the Drifter, a nomadic ninja-like protagonist who must use forgotten technology to find a cure for the sickness that is plaguing him. New features for the Switch include new weapons and exclusive missions. Don't be fooled by the retro-style artwork, this game is "a gorgeous, fast, fluid trek in a neon apocalypse."
Towerfall-September 27, 2018
This game was originally released in 2013, and it has been remastered and is now coming to the Switch. Towerfall allows players to take the role of archers in both co-op and solo gameplay. The Nintendo Switch version of the game will come with both released expansions and will include character variants not offered on other platforms. This game is an entertaining battle royal with a distinct and charming retro style.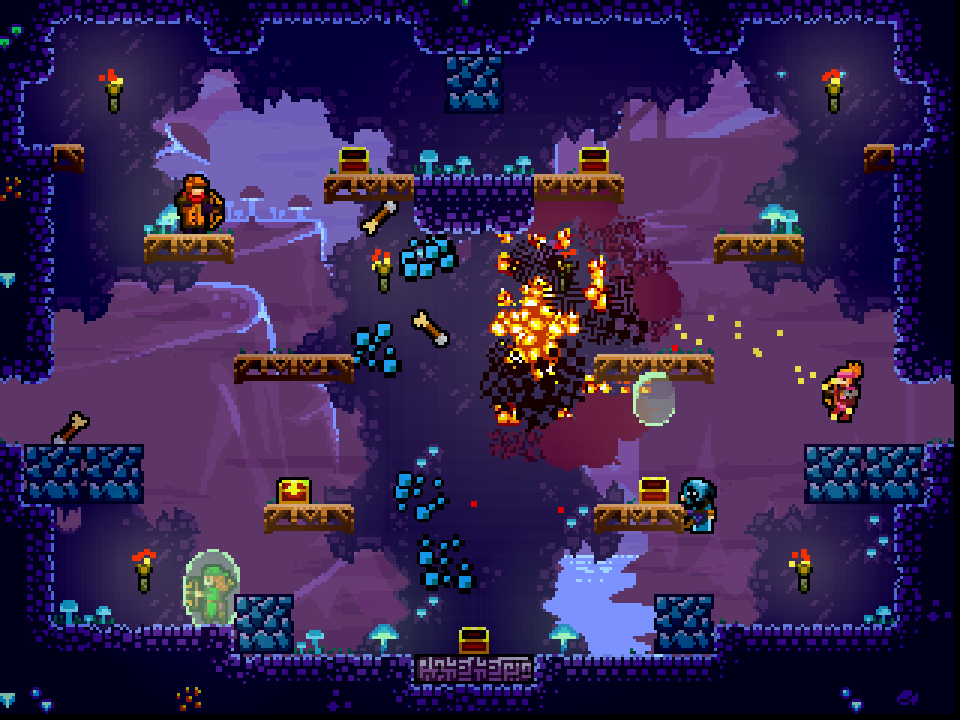 Treasure Stack-Winter 2018
This is a classic Tetris-style stacking game with a twist. Players use a mobile character with a grappling hook to stack the blocks and treasures in their proper places. This game also supports cross-platform play, so players can take their battle to their friends who are using either a PC or Xbox.
Zarvot-October 2018
This is a game all about "friendship among cubes."  Charcoal and Mustard, two friendly cubes, have made it their mission to cheer up everyone they meet. They traverse nine unique worlds, battling villains with variations of weapons and techniques. Zarvot also features a multiplayer mode with five different game modes. Along with that, there is an enemy called Joy-Vot; this enemy is controlled by tilting the joy-cons in a different direction and is only in the Switch version of the game.
Mineko's Night Market-Early 2019
Probably the most unique title featured in this showcase, Mineko's Night Market is a cat lovers dream. In this cat-themed game, players guide Mineko, a little female protagonist through over 20 hours of story-driven gameplay. Here Mineko can interact and help villagers in her Japanese-inspired island home; she will even interact with a mysterious cat god.
Bullet Age-November 2018
In this co-op Metal Slug-type shooter, players move two soldiers through a post-apocalyptic wasteland. It appears that the duo fights off monsters and mutants while upgrading their weapons and ammo. This is a straightforward title that will feature an HD rumble interface, allowing the player to "feel their attacks and locate hidden items."
The World Next Door-Early 2019
This title is a story-driven game that centers around a teenage protagonist named Jun, who is trapped in "a parallel world inhabited by magical creatures." Branching dialogue is featured that helps the player to develop relationships in the game. There is also a puzzle-type battle system where players can guide Jun across runes to cast spells to defeat her foes.
Levelhead-November 2018
This level building platformer allows players to create the levels and then allow for their friends to play through them. This type of level building model has been used for many games in the past, and Levelhead seems to capitalize on multiplayer. There is even a 4-player co-op mode that will allow players to create and play through levels together.
Untitled Goose Game-Early 2019
In this game called the "Untitled Goose Game,"  a mischievous goose is controlled by players. Considered to be a "part stealth, part sandbox, all goose simulator," this game allows for the player to steal and hide items for farmers and other townspeople in an attempt to cause as much mayhem as "goosely" possible.
Into the Breach-Available Now
Into the Breach generated an overwhelming outcry for it to be brought to the Switch when it was released earlier this year on the PC. In this turn-based strategy game, the players can control giant mechs and fight off an invading race of aliens. Also, what is neat about this game is that when the player fails a mission, they can send a pilot back in time to start the game over with all of the same experience and items they had before.
The Rest of the Titles
The showcase also featured the following games:
Samurai Gunn 2-Early 2019
King of the Hat-Early 2019
The Messenger- August 30, 2018
Bastion-September 13, 2018
Wasteland 2: Director's Cut- September 13, 2018
Undertale- September 18, 2018
Light Fingers- September 20, 2018
Superbrothers: Sword & Sworcery EP- October 2018
Jackbox Party Pack 5-October 2018
Transistor- November 2018
Desert Child- December 2018
Dragon: Marked for Death- December 13, 2018