The Gruul Clan: Punch First, No Need for Questions
Do you identify as a berserker? Have you owned a giant cat beast? Do you announce your sneak attacks with a loud battle cry? Then you probably belong in the Gruul clan.
Gruul is the color of red and green, of firepower and brawn. Red is full of explosions and rapid attacks. Green is big and full of muscle.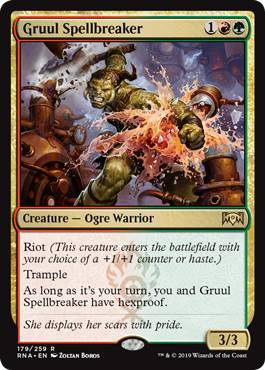 Together, you get a very straightforward and very effective strategy: just hit 'em. Hit 'em real hard.
In the lore of Ravnica, Gruul is a loose collection of tribes and conquerors fighting everyone they can. They're the neighbors that won't stop bellowing in the middle of the night. Fighting is in their blood, and if you want to try and go over there and tell them to turn the music down, you better bring your war-club and a helmet.
Let's Throw a Riot
In the new Ravnica Allegiance set of Magic the Gathering, Gruul gets a new exclusive mechanic: riot.
Riot – this creature enters the battlefield with your choice of a +1/+1 counter or haste.
Giving you a little flexibility, riot allows you to either bulk up for a bigger future swing or go ahead and swing immediately with what you got. Choose wisely. If you give the creature haste it keeps haste even after your turn ends. This means that if your opponent gains control of the creature they can attack with it immediately because it still has haste.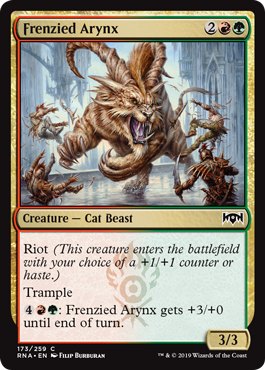 While we haven't been spoiled by a card with more than one riot, the announcement by Wizards of the Coast says that in "uncommon cases" a card will have more than one riot trigger. So if riot triggers twice, then you can put two +1/+1 counters on the creature, a +1/+1 and haste, or double haste. Double haste isn't any different than a single haste and is essentially useless – but you can, in fact, do it. If you want to. No judgment here.
Only One Mechanic Left
Tomorrow we'll see the last mechanic for the last guild of Ravnica Allegiance: Azorious. Or, as my friends call it, cops. If I had to venture a guess, I'd say it'll be some kind of detainment, bounce, or tap ability. Maybe even something to do with flying. But we'll just have to wait and see. I continue to be impressed with the mechanics for Ravnica Allegiance so far, and I can't wait to see the full card list.